When it comes to industrial handrails or grab rails, choosing durable materials that are easy to install and maintain is important. Your handrail systems should also meet International Building Code requirements, OSHA, and ADA compliance guidelines.
Handrails that are properly selected, installed, and maintained help provide support for building occupants and visitors. Below, we will look at tips on how to select and install the ideal industrial handrail system for your requirements.
---
FAQ: Are Handrails and Guardrails the Same?
No, but they are often installed as part of the same railing system. A guardrail is a fall protection mechanism that prevents people from accidentally falling off elevated surfaces. A handrail is designed to guide people along a pathway, even if it's not elevated.
You will frequently see a handrail installed as a secondary rail attached to a guardrail system, such as on stairs or landings where people need to traverse safely without falling and could use additional support along the way.
For an exploration of the distinction between handrails and guardrails, with use cases and an overview of code requirements, go here.
---
Tip #1: Select Cost-Effective, High-Quality Handrail Materials
First, identify high-quality materials for your industrial handrail system. Materials that are durable and easy to install offer the best lifetime ROI. The most common materials used in industrial handrails are: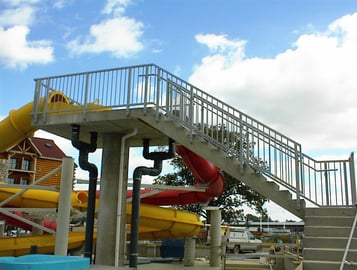 Steel (traditional, stainless, or galvanized)

Pultruded FRP (Fiberglass Reinforced Plastic)

Aluminum
Which one is right for your facility? Steel is a common choice for handrail systems. It is readily available from many suppliers and may have an attractive upfront cost depending on the price of metal commodities in the market.
However, FRP handrails are lighter in weight than both steel and aluminum (cutting down on transportation and installation costs). FRP typically outperforms steel in strength-to-weight ratio and flexural strength, making it a tough and durable material for heavy-duty industrial applications. See specification guidelines here.
Tip #2 Consider the Handrail Installation Environment
Next, consider whether the materials will be exposed to harsh weather conditions or other environmental factors such as salt water or chemical exposure. Metals often corrode quickly when exposed to the elements even if they are painted or coated. Choosing quality materials ensures that your handrails will stand up over time without needing constant maintenance or repair due to wear and tear.
Why FRP Stands Out for Durability in Harsh Environments
Corrosion: FRP is highly resistant to corrosion and requires little maintenance, especially compared to metal which must be refinished repeatedly to slow down the degradation of materials. Over the lifespan of the railing system, fiberglass reinforced plastic often proves to be a better investment.
Sunlight (UV): For outdoor environments, exposure to sunlight can reduce the lifespan of any type of railing material. Ultraviolet light protection varies by product type and manufacturer. FRP materials with integral UV inhibitors in the resin are designed for greater resistance to damage from UV exposure.
Note: At Fibergrate, we also add a unique UV resistant polyurethane coating to all our FRP products that will be installed in an environment with sun exposure.
Heat & Electricity: Because it does not conduct electricity and is a poor thermal conductor, FRP can provide an added level of safety in environments where electric shock or burns from hot surfaces pose a risk. FRP is also fire-retardant.
See how non-conductive guardrails created a safer work environment in a mining company's power plant.
Tip #3: Choose Between "DIY" or Prefabricated Handrail Systems for Ease of Installation
When selecting an industrial handrail system, consider the size of your facility and the type of environments that will require handrails. Many metal handrail systems come with rails in standard lengths that can be cut and fitted on-site to work within your environment; however, costs for this on-site approach to building a handrail system can quickly add up.
FRP systems such as Dynarail® handrails have durable components which are designed for easy assembly. These systems can also be engineered and prefabricated to customer specifications. Having a system predesigned can make installation faster and simpler, reducing labor hours and the cost of equipment rental.
Here's a comparison of installation requirements for Steel vs. FRP
Equipment and Labor Required for Installing Steel Handrail Systems May Include:
Structural Steelman

Structural Workers

Welder

Welding Equipment

Crane Operator

Crane Rental

Grinders, drills, wrenches, and other tools
Equipment and Labor Required for Installing FRP Handrail Systems May Include:
Carpenters

Foreman

Handsaw

Other hand tools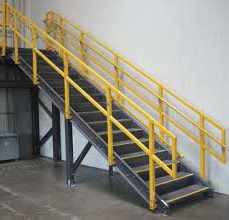 Whichever material and approach you choose, it's important to work with a professional installation team. Professional installers have experience working with various types of handrails and understand how to install them correctly to meet all applicable safety regulations. Expertise and oversight ensure that your facility remains compliant with local codes while providing maximum protection from potential hazards associated with improper installation practices.
Your Handrail System Should Be Built to Last
Investing in an industrial handrail system is an important decision when it comes to safety at your facility. The tips outlined above can help ensure that you select and install a quality handrail system that meets all applicable safety standards while providing maximum protection from potential hazards associated with improper installation practices. By following these tips, you can rest assured knowing that your facility will remain compliant while providing optimal protection from potential dangers associated with stairways and elevated surfaces.
Did you know? Dynarail® handrail, guardrail, and safety ladder systems meet or exceed OSHA and strict building code requirements for safety and design. Click here to see where you can buy FRP handrail systems.