The Reversing Falls are a unique and beautiful phenomenon created by the collision of the Bay of Fundy and the Saint John River in New Brunswick, Canada. At low tide the river empties into the bay causing a series of rapids and whirlpools, a truly natural spectacle.
A large rooftop deck area allows you to walk out 28 feet beyond the 110 foot cliff edge on a glass platform and enjoy the show!
Recognized for being one of Eastern Canada's greatest tourist attractions, this place receives thousands of visitors per year. It's only natural that all kinds of foot traffic is seen: wheelchairs, high heels, and people who go down to take a closer look at the reversing falls. This traffic causes physical wear to traditional products. In addition, pedestrians come back with wet soles leaving a dangerous slippery surface.
Throughout the years the observation deck was made with traditional materials such as wood and steel. However due to the weather conditions (it snows constantly) and the routine maintenance (salting) the traditional materials covering the deck kept deteriorating. Can you imagine having to repair or replace your kitchen floor at least once a year? That sounds expensive! Not to mention having a slippery surface at a tourist center is always a "no-no."
That being said, the materials used needed to reduce hazards for tourists at the Reversing Falls by providing material with the following characteristics:
Corrosion Resistance: a high degree of corrosion resistance is needed because the weather of New Brunswick consists of a generous amount of snow in winter season, making shoveling and salting a very common maintenance routine on the observation platform's surface.
Slip Resistance: due to the environment, the deck is often wet and has constant pedestrian traffic. Slip resistance is important to keep pedestrians safe.
Light weight: light weight materials protect the rooftop, preventing any damage to the ceiling inside of the restaurant.
The MVP at this Canadian attraction was the Aqua Grate® 1215 Pultruded FRP Grating in 3 foot by 10 foot panels on the floor of the observation platform. Why you ask? Well, our objective was to help reduce hazards for tourists and reduce maintenance costs and time. This material is specifically engineered to withstand the corrosive conditions associated with recreational and general marine applications. The fine grit surface of Aqua Grate provides a high level of slip resistance yet, at the same time is so comfortable that you can walk on it barefoot (not that anyone would walk barefoot in the snow in Canada, but then again this is a very comfortable surface). Also, did we mention it meets ADA design requirements? Simply amazing!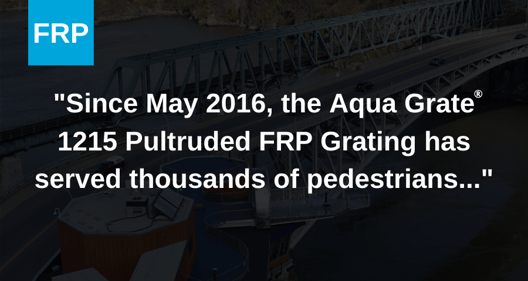 Beyond all of the tangible characteristics of our products we care about our clients and we want our customers to come back, this is why our ultimate goal is to offer you high-quality products that can get you years of low maintenance service.
The Aqua Grate® 1215 Pultruded FRP Grating has served thousands of pedestrians, and it is safe to say that the material continues to fulfill its purpose.
Be our next success story! We're just one click away: