Guardrail systems and handrail systems are both helpful components in many buildings and structures; however, because of their similar placement and design, they are often confused with one another. These systems play two separate but often supporting roles in enhancing the safety and usability of a property.
What's the Difference between Guardrails and Handrails?
Guardrail Systems are safety elements designed to prevent falls from a higher level to a lower level (such as off the edge of a platform or stairs).
Handrail systems offer support and guidance by giving people something to hold as they move along a pathway or stairway.
Where Are Guardrail Systems Used?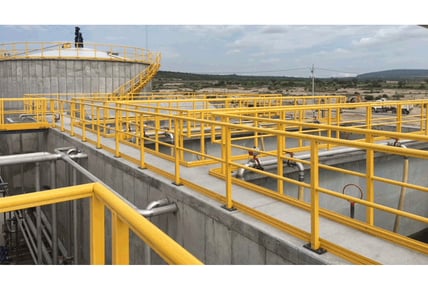 Guardrails are safety barriers that are installed in areas where they can provide lifesaving protection to workers, occupants, or passersby. You may need to install them around:
Landings
Staircases
Elevated Platforms
Rooftop spaces
Patios
Because they are designed to visually warn of hazards and physically prevent accidental entry into hazardous spaces, guardrails must meet strict requirements for strength, durability, size, shape, and placement. These guidelines and rules are outlined by OSHA and may also be affected by local building codes.
Are You Meeting All Safety & Code Requirements for Guardrail Systems?
The guidelines set forth by OSHA specify guardrails as part of the fall protection systems for all workplaces. For example, section 1910.28 notes that employees must be protected with a guardrail system in areas where there is a risk of falling 4 feet or more from a higher level to a lower level.
There are also height requirements for guardrails to ensure that workers won't accidentally fall over the top. Section 1910.29 states: "The top edge height of top rails, or equivalent guardrail system members, are 42 inches, plus or minus 3 inches, above the walking-working surface." Midrails must also be installed midway between the top edge of the guardrail system and the walking-working surface.
Weight limits are also important. Guardrail systems must be capable of withstanding, without failure, a force of at least 200 pounds applied in a downward or outward direction within 2 inches of the top edge, at any point along the top rail.
Note: When it comes to meeting code requirements, it is best to consult with a professional who specializes in these types of installations.
Where Are Handrail Systems Used?
Handrails are guide rails that provide support for people when they traverse along pathways. Common areas for handrail installation include:
Stairways
Ramps
Hallway
Bridges
The shape of the handrail system is also important; it should be comfortable to hold onto and should allow people to maintain their balance while moving along them. The height of the handrail must also be taken into account to ensure it meets code requirements.
Are You Meeting All Code Requirements for Handrail Systems?
The International Building Code (IBC) is the standard to follow when designing and installing handrails in commercial or industrial environments. According to the Building Code Blog: "In both the IRC and IBC, handrails are required to be located a minimum of 34 inches and a maximum of 38 inches above the stair. Specifically, this dimension is measured vertically from the stair tread nosing. Note that when handrails are transitioning between flights or at the start of a stairway, the fitting and bendings are permitted to exceed the maximum height."
Make Sure Your Handrail Systems are ADA Compliant
When designing their public and workspaces, consult the Americans with Disabilities Act (ADA) which sets forth specific guidelines for all publicly accessible buildings and structures. These guidelines require handrails to meet certain standards in order to ensure maximum accessibility for everyone who uses them regardless of their disability status.
Additionally, the railings must be easy-to-grasp with at least one continuous grip surface along the entire length. This is typically achieved by incorporating bumps into the design which allows users to maintain their grip more easily when walking up or down staircases. ADA-compliant handrail systems must have adequate lighting, so people with impaired vision can identify them easily when moving through the space safely and independently.
See how railings help visitors make their way safely to a submarine at a historic museum...

Note: At Fibergrate, Dynarail/DynaRound FRP Guardrail & Handrail Systems are strong, corrosion-resistant, non-conductive, and fire retardant.
Invest in the Best FRP Guardrail and Handrail Systems for Your Business
Choosing high quality guardrail systems and industrial handrails is important when you are designing, building, maintaining, or renovating your facility. Our fiberglass reinforced plastic guardrails and handrails are designed to help you meet your compliance and safety goals.
Need FRP guardrails or handrails for an upcoming project? Reach out to your local territory manager for details.