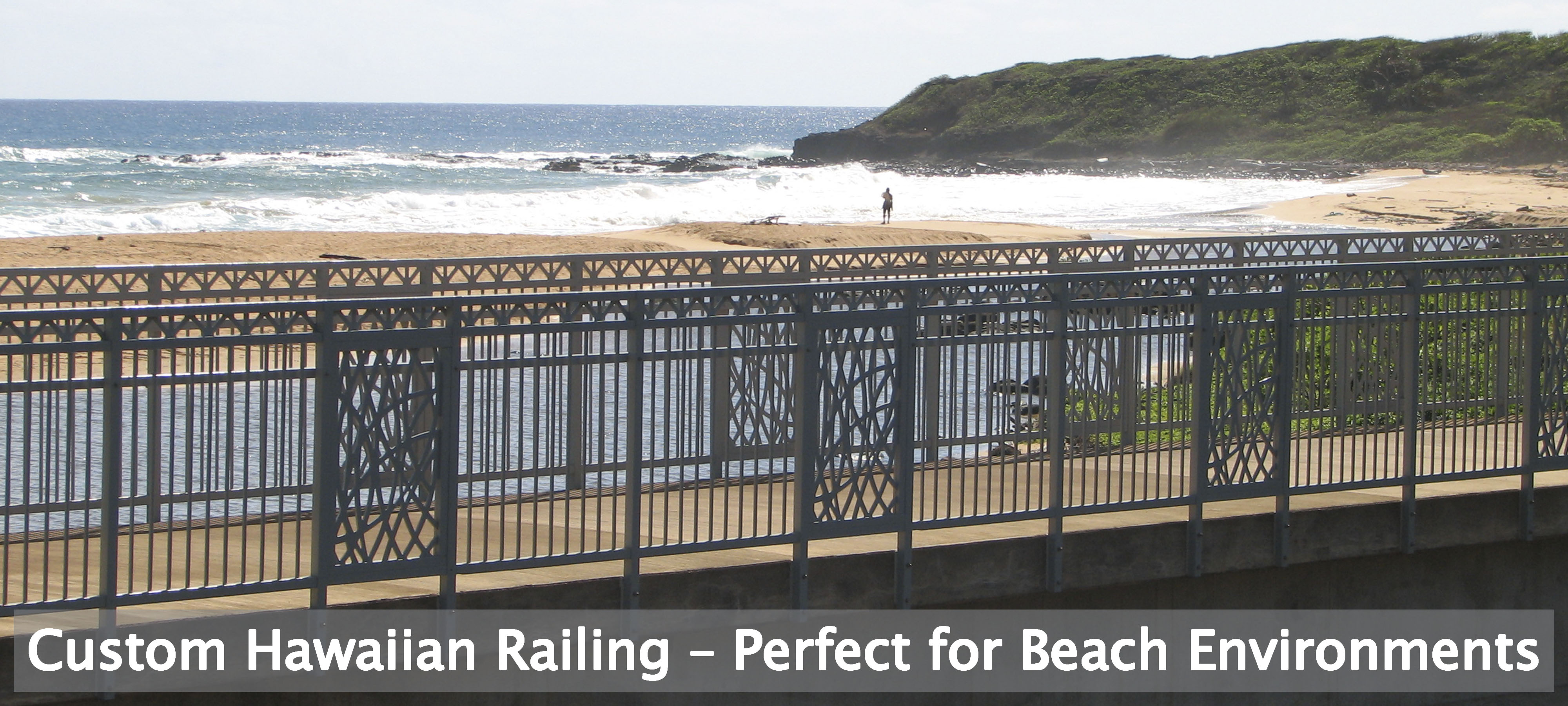 Reconstructing a bridge in a coastal area comes with its own unique set of hurdles. With all of the rain, sun and salty air, corrosion is a significant problem. Kauai is the garden island with more annual rainfall than any other Hawaiian Island, further intensifying the risk of corrosion. When renovation began on a bridge in Kauai, the materials chosen needed special attention.
Traditionally, railing applications have been designed to be steel; however, metal, particularly steel, tends to be extremely corrosive, especially in coastal climates. In order to avoid corrosion, the designers sought to find an innovative alternative. While searching for a functional solution that looked great and would not rust, FRP (Fiberglass Reinforced Plastic) railing was brought to mind.
FRP products are made from a combination of fiberglass and resin. They are corrosion resistant, have a low installation cost, and require very low maintenance. All of these factors make the life cycle cost significantly lower than steel.
Fibergrate's Dynarail® architectural guardrail system was eventually chosen. It was an excellent choice to eliminate rust and corrosion on several of the pedestrian bridges on the eastern shores of Kauai.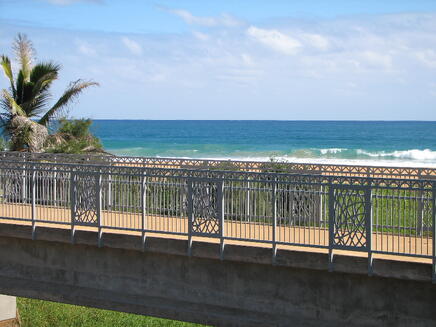 Fibergrate's Engineering Team and local manufacturer's rep, Aloha Marketing, worked with NKO Structural Engineers of Honolulu to create the first design for the County of Kauai. This design was based on feedback from neighborhood boards, the County (or County officials) and The Outdoor Circle, a statewide environmental group. Fibergrate was able to expand upon its more standard FRP picket railing system by adding custom design elements that were native to the island – pineapple and sugar cane. These are two local crops raised on island of Kauai.
The first project was the Pineapple Bridge renovated over a decade ago. As the pictures show, the pickets surround FRP flat plate panels custom designed with pineapples etched through each panel. This bridge, like the others, is used by local residents, fishermen, bicyclists and runners.
Sugar cane was the architectural characteristic featured on the railings of the next several bridges. On the technical side, Fibergrate had initially used conventional CNC routing to cut the sugar cane designs in the fiberglass composite plate but later transitioned to a water jet machine. This new process required some fine-tuning, but it has resulted in improved designs in the plate.
The most recent bridge is the bicycle/pedestrian path on the Wailua Cane Haul Bridge. This bridge incorporates the custom sugar cane panels with the pickets on the bike and pedestrian path. It is the longest of the bridges to date. It also has the addition of traffic rate guardrails on the southbound entry to the bridge. Even though the bridge is made of steel and concrete construction, the themed Dynarail guardrail system integrated seamlessly with the bridge structure and appearance.