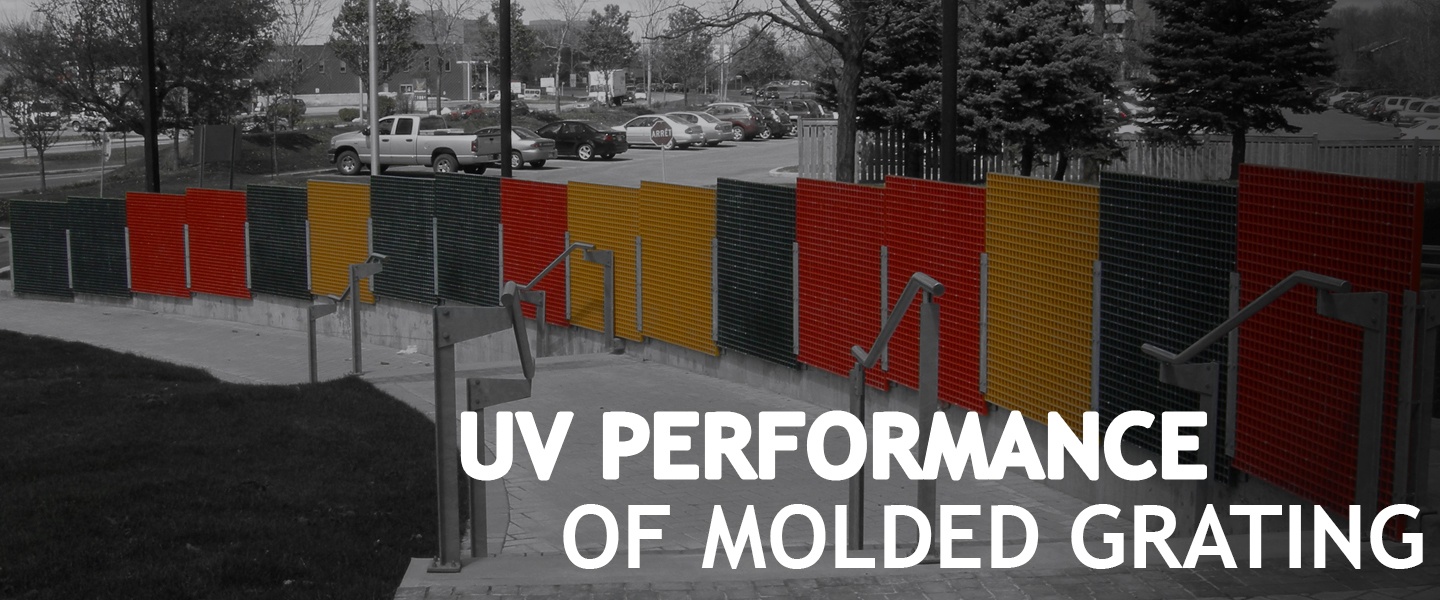 Fibergrate Composite Structures Inc. is the original developer of molded gratings and has continued to refine molding and resin technologies. Impact resistant and structural advantages of molded gratings are well documented and have accounted for their widespread adoption in many industries.
In addition to structural performance, Fibergrate has worked to develop molded grating resin systems with maximum UV resistance. As we know from our day to day experience, all construction materials weather when exposed to sunlight. Paint will fade over time and caulk will crack and peel. Fiberglass gratings are subject to the same weathering stresses, so it is important to formulate the resins used to make grating to have maximum UV resistance. While the molded gratings currently on the market may look the same, resin formulations, additives, and degree of cure will have a significant impact on the UV performance.

To provide a subjective example of the difference in molded gratings on the market, we tested Fibergrate Corvex® molded grating side by side with another manufacturers polyester molded grating. Both were exposed to UV light using an Atlas Ci4000 Xenon Arc Weather-Ometer – a tool that provides a measured, standardized rate of UV exposure. Samples were removed and photographed after 250, 500, and 750 hours of exposure.
In the photographs below, the samples marked F1, F2, and F3 are the Fibergrate samples and the samples marked N1, N2, and N3 are the other manufacturer's molded grating samples - both after 250, 500, and 750 hours of exposure.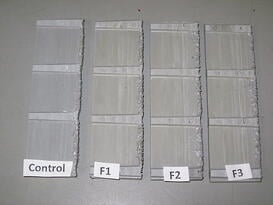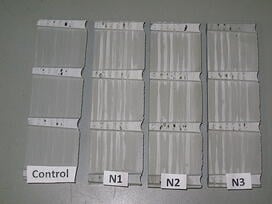 While both sets of samples show some color change, the most significant difference was in the chalking, pitting, and surface degradation of the other manufacturer's molded grating. Their surface degradation not only indicates inferior UV resistance of the resin formulation, but also exposes the glass reinforcement of the grating to damage from any corrosive agents which might be present. By contrast, the Fibergrate samples show only mild discoloration, indicating that the reinforcement is still well protected by the resin matrix.
When comparing fiberglass molded gratings, it is not enough to simply consider the strength of the product to resist working loads. For outdoor applications, the UV performance must be considered for the appearance of the grating as well as for the long term corrosion resistance. Put Fibergrate's nearly 50 years of experience formulating the highest quality molded grating resins to work for you on your next application.