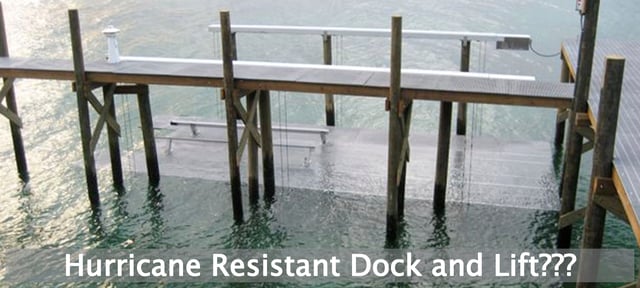 Can you imagine a world in which decking products were able to withstand the surge of a hurricane? Seems impossible, though, right? Nope. Fibergrate Composite Structures has products that have done just that!
With the help of designer Foster McIntosh, Fibergrate materials were used in the Pineapple Bluff Dock and Lift in Green Turtle Cay, Abaco Bahamas. The goal for this project was to build a dock and boat lift that would provide recreational access to the Sea of Abaco. In addition to recreational access, the boat and dock lift has been tested in Hurricane Irene, and was able to withstand storm surges to the structure.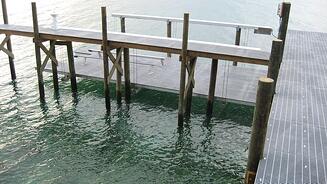 Fibergrate's Molded Grating was chosen in this application because the unique design was noted as storm and environmentally friendly. The aqua grit surface makes this grating slip resistant and barefoot friendly.
The customer wanted a dock that would be able to stand up to a hurricane, and that is exactly what this dock and boat lift did! Hurricane Irene roared through the Bahamas in late August of 2011. Ground observations noted sustained winds at 130 mph and gusts up to 160 mph!
The dock was hit with substantially larger waves than normal which,at times, fully submerged the dock. Even so, there was no damage to the dock. Fibergrate Molded Grating proved to be the solution to prevent wind and water damage to the dock and lift. In addition to withstanding the temporary physical demands of hurricanes, the natural resilience to corrosion, even in salt water environments, of Fibergrate's FRP materials will help protect the customer's investment for years to come!

Fibergrate grating is ideal for areas affected by hurricanes because the open design of the grating allows wind and water to surge through. This grating was designed to meet ADA and US Corp or Engineer Standard for Coastal Docks.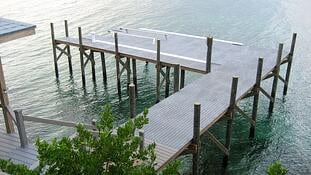 Remember Fibergrate for your next project. With the ability to withstand damage from a hurricane, beautiful look, and long service life, it is the right fit for your deck, dock, or marina.