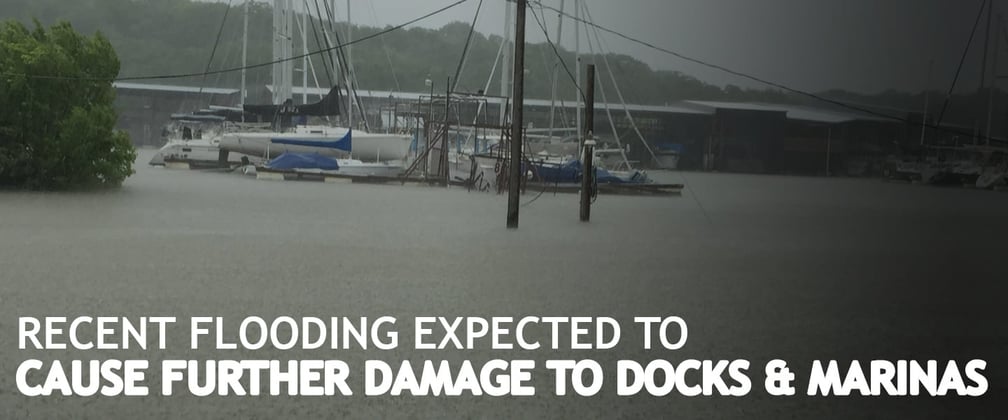 With our corporate headquarters and manufacturing plant located in North Texas, we have seen and felt some of the destruction caused by the recent flooding. The immediate impact has had some devastating outcomes, but there are ways to reduce the future damage of this flooding as well as safe guard against floods to come.
In the past few months, we have seen unprecedented flooding in the South. The immediate damage can be seen on the news, from cars getting stuck in the water to bridges breaking. What has yet to be seen is the long-term damage. With the lakes over flooded, the docks and marinas surrounding the lake are being negatively impacted by the change in water levels.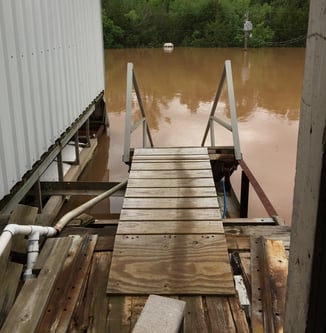 To some, water might not seem like a major threat to wood – after all, in some cases, logs that have been fully submerged in water for decades and sometimes even centuries are being excavated for the usable wood. There are a few fundamental differences between the environment of fully submerged logs and wood located near water. These differences, in fact, are what enable several kinds of fungi to survive.
What Causes Wood to Rot?
It is important to understand water alone is not what causes wood to rot. Rather, fungi are what actually lead to wood deterioration. Water is just one of four main elements that allow different kinds of fungi to survive. Decay fungi "actually break down the cellular structure of wood, which does cause significant strength loss. They do this by secreting enzymes or producing chemical reactions that dissolve some of the constituents of wood cell walls. The activity of decay fungi is apparent when the wood becomes either darker or lighter than surrounding wood, develops checks and cracks in the discolored area, and is obviously softer or more brittle than solid wood" (McCown, 2009).
Four basic conditions are essential for decay fungi to survive:
Food
Oxygen
Water
Moderate temperatures.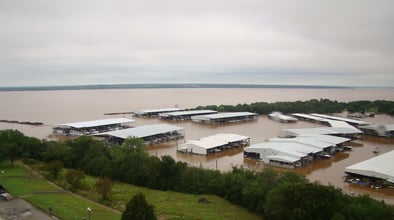 The wood itself is food for decay fungi – hence why wood rots. The wood also provides insulation from extreme temperatures and stores spare water and oxygen.
Decay fungi are primitive plants needing air to comprise of at least 20% oxygen and some, but not too much, water to survive. Too much water leads to decreased oxygen levels which makes the environment unsuitable for fungi. This is why fully submerged logs can be retrieved from water with little to no damage.
Most decay fungi can live in temperatures between 40°F and 130°F but thrive in temperatures between 70°F and 90°F – not exactly what Southern dock and marina owners want to hear with the recent flooding.
What Does this Mean for Dock and Marina Owners?
Take caution. With recent flooding, the varying water levels create an environment where decay fungi thrives. The rotted wood caused by decay fungi leads to unsafe walking conditions, downtime for repairs, and costly deck replacements.
Unfortunately, if you choose to replace your wooden deck with another wooden deck, you will likely experience these problems again in the future.
The Good News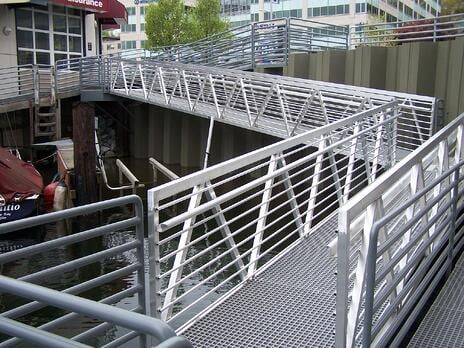 A more permanent solution is fiberglass reinforced plastic (FRP) decking. This decking is corrosion resistant and is extremely long lasting, leading to significant cost savings throughout the life cycle of the application.
In addition, there are barefoot friendly options that are both slip and heat resistant – providing a safe and more comfortable walking surface.
One of the most attractive characteristics of FRP for marina and dock owners is its low maintenance. While wood docks are required to be seasonally cleaned, repaired, sanded, and re-stained, FRP docks have extremely minimal maintenance requirements. Unlike wood, FRP decking can be cleaned with a high pressure washer without the risk of splintering.
There are both molded and pultruded decking options available in a variety of shape, sizes, and openings allowing you to find the perfect solution - even ADA compliant options.
To learn more about FRP decking options, visit Fibergrate.com.
Bibliography
McCown, C. (2009, July 1). What Causes Wood to Rot? Retrieved from Professional Deck Builder: http://www.deckmagazine.com/wood/question---answer.aspx