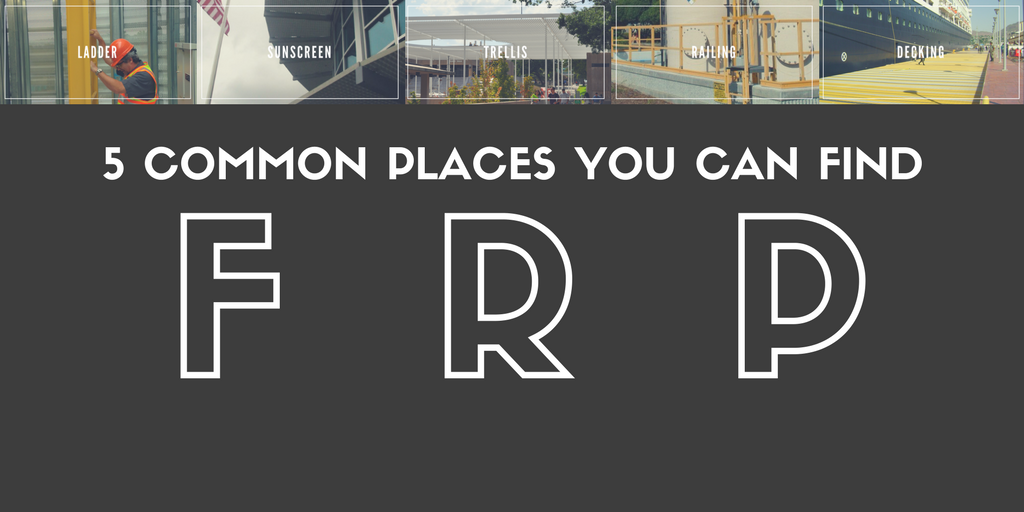 Is it metal? Is it wood? Maybe it is neither. Maybe it is fiberglass reinforced plastic (FRP). FRP is all around you, but you may have mistaken it for other materials. Below are five different places you can look for FRP that you may not have expected.

Traditionally built with wood, a trellis can bring shade and architectural interest to an outdoor space. Wood, however, will rot and splinter. It requires routine maintenance, costing you both time and money.
A more innovative option you may have seen, without even noticing it, is FRP. FRP is corrosion resistant, so you will not have to deal with the maintenance required with wood. A UV protective sealant will protect your FRP from fading or becoming fibrous in the sun and prolong the life of your trellis. In addition, FRP is extremely lightweight, so installing a trellis is even easier than it is with alternate materials.

I bet you thought those bright yellow railings were metal, huh? Nope, they're FRP. Fibergrate offers both round tube and square tube handrail and guardrail options. The color is mixed into the resin, so you no longer have to worry about repainting those old metal railings.

Becoming increasingly popular, an innovative way to use FRP grating is as a sunscreen. It is a cost efficient way to partially shade an area or cover windows. The variety of mesh openings create a visually appealing application.

While commonly assumed to be a metal product, safety ladders can be manufactured using FRP. The corrosion resistant properties of FRP make them ideal for outdoor applications. FRP is non-conductive, so FRP ladders are a much safer option when paired with electrical work.

FRP is, also, a popular choice for decking material. It does not warp the way wood warps, and as mentioned before, it is corrosion resistant and does not splinter. FRP is thermally non-conductive, so it maintains a comfortable surface temperature for walking. Fibergrate FRP grating even comes in barefoot friendly surface options.
Some people may think FRP is a brand new material option, but the truth is that it has been around for a long time. Fibergrate Composite Structures has been Building the World to Last™ for over 50 years. FRP can be found all around you. These are just a few common examples, but FRP can be found in many forms, even in custom shapes and sizes.