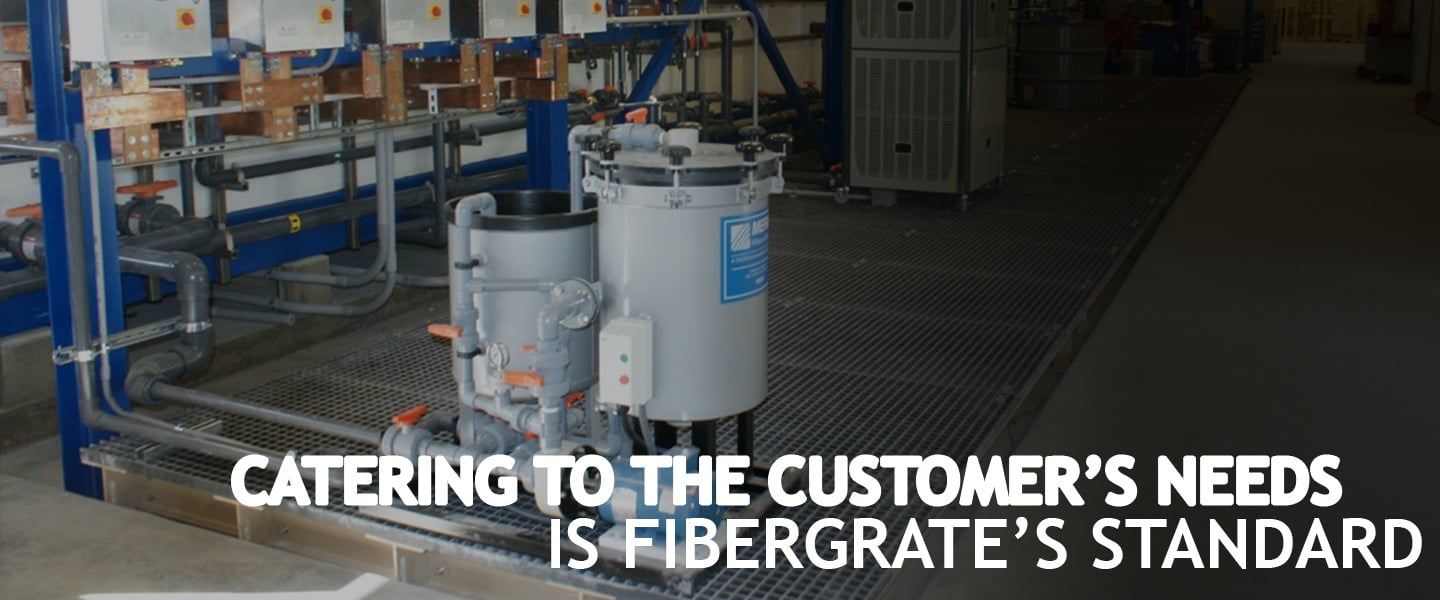 At Fibergrate Composite Structures, Inc., we pride ourselves in the unmatched services we provide our customers. From meeting one of our sales managers face-to-face to fully fabricating our products for you, Fibergrate stands in a category of our own. This was no exception in the story of the Pewag Chain manufacturing facility in Pueblo, Colorado.
Pewag Chain is an Austrian based company that manufacturers unique traction chains for winter driving trucks in addition to other specialty chains for unique applications. With over 500 years of experience in the manufacturing industry, Pewag Chain knows and values quality, making Fibergrate the perfect match for the plating and line platform in their new manufacturing facility in Pueblo, Colorado.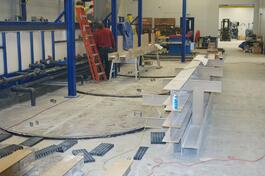 The construction company on the job was NAB Construction. Originally, the customer had planned on using steel for this project. The steel fabricator had promised to complete the project on time and on budget but were unable to succeed.
This unfortunate turn of events turned out to be for the better. NAB Construction worked with Process Equipment Company (PEC) to find the perfect alternative solution. Installing 8" wide or even 6" wide flanged steel beams and using steel grating for this project would have required four times the personnel in addition to lifts, heavy duty equipment, welders, etc. All these factors indicate Fiberglass Reinforced Plastic (FRP) was clearly the right choice for the job.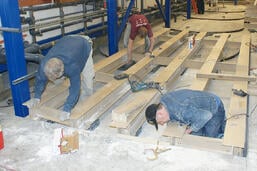 FRP's light weight properties not only made sense in the short term for installation but, also, in the long term for Pewag Chain. The lightweight properties of molded grating allow the facility workers to remove the deck at any point in the future to access the floor-level fiberglass tanks.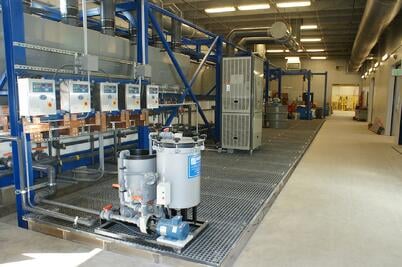 NAB Construction was able to complete the whole installation in four days with just three workers - a true testament to the ease of fabrication of the material and their hard work! Because of the speed of this project, NAB Construction opted to do the fabrication themselves on-site. The work included drilling over 3,000 holes in the fiberglass and concrete for 8.5" anchors. Additional Fibergrate material was needed due to the actual tanks being twice the size of the tanks in the drawings. Even with such a set back like this, Fibergrate was able to provide quality materials in a very short amount of time.