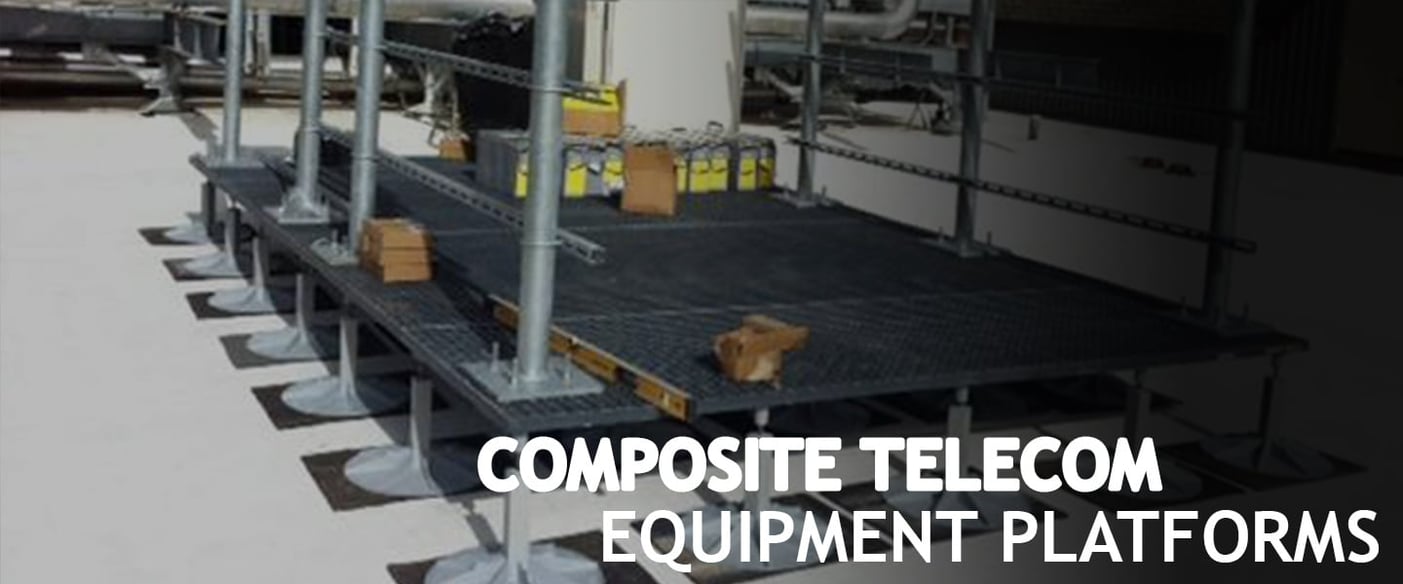 Sometimes the most difficult problems have the simplest solutions. Park Cities, TX, an city just north of Dallas, faced a multidimensional problem. The urban area had very limited cell service yet had to serve a large population. The area had limited options as to where a cell tower could be placed. The Highland Park United Methodist Church was strategically chosen due to its location on the SMU (Southern Methodist University) campus among various other aspects.
Composite telecom equipment platforms are lightweight.
Choosing to use this church; however, came with its own unique set of obstacles. The church did not want the weight of the heavy cell towers to damage the roofing material or harm the roof's structural supports. In addition to protecting the roof, this particular church was located on the intersection of two busy streets – neither of which could be shut down in order to allow a crane to carry heavy steel structures to the top of the roof. Thanks to Manchester & Associates, it became clear that there was only one solution: use Fibergrate's telecom composite equipment platforms.
The lightweight feature of composite telecom equipment also reduces shipping cost and installation time. In fact, it can be easily set up in an hour with only two workers! It is one third of the weight of comparable steel platforms. This was pivotal in choosing this product because of the inability to use a crane. The composite telecom equipment platforms are lightweight enough to allow it to be carried up the church's existing freight elevator. The light weight was necessary to avoid damage to the church's roof structure and surface. Additionally, the platforms allowed for the large mass of the cell tower to be evenly distributed across the roof further eliminating the damage to the roof's structure and surface.
Composite telecom equipment platforms have an efficient modular design.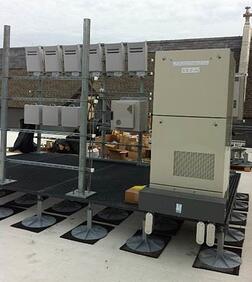 The adjustable support legs attach direct to the decking. Because this system is made of FRP (Fiberglass Reinforced Plastic), there is no need for welding, support beams, or bolting. The design of composite telecom equipment platforms allows for the product to be rapidly delivered in both custom and standard applications.
Composite telecom equipment platforms can be customized rapidly on-site.
A handsaw or jig saw can easily and quickly cut this product on site. The elimination of welding, banding, and/or galvanization make on-site customization even easier.
Composite telecom equipment platforms are corrosion resistant.
This was a key in the church's decision to go with Fibergrate. Because the cell tower is going to be around for a very long time, it was extremely important to have a support system that was practically maintenance free, even in outdoor applications.
Fibergrate's FRP has many benefits that traditional materials are lacking. The light weight eases installation and significantly reduces cost. The corrosion resistance makes it the best option especially in outdoor applications. Plus, the rapid production, fabrication, delivery and installation are unmatched in today's industry.