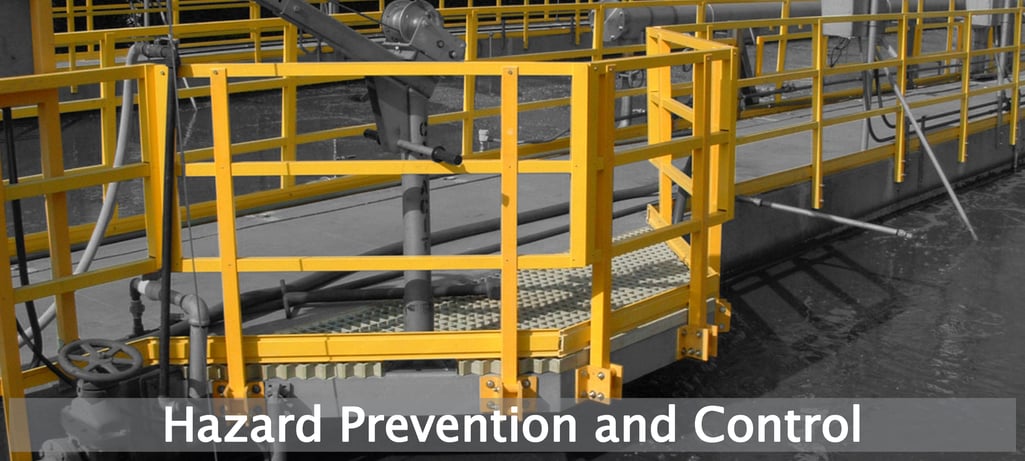 Through the past two blog posts, you have learned about the first two elements of creating a safety program. The first element, dealing with management, leadership, and employee involvement, is very important when it comes to organizing, implementing, and successfully executing your plan. The second element deals with worksite analysis and explains how often you should conduct an analysis. Analysis should be used to identify and eliminate existing and potential hazards. Today, we are going to go in depth about hazard prevention and control, and the next blog post will explain the fourth and final element: safety and health training education.

Hazard prevention and control starts with proper training. The use of standard operating procedures (SOPs) is necessary in the workplace in order to help you maintain equipment and vehicles on a regular basis. Employees must be trained on proper procedures for handling specific situations. Air quality, heat stress, ergonomics, noise, and other potential job hazards must be monitored to ensure a safe work place. It is extremely important to train and maintain education on emergency action plans and procedures for fire, life, and first aid.
It is the company's responsibility to provide the training, but the employee must remember to:
Take the training seriously and pay attention
Read labels and Material Safety Data Sheets
Know where to find the Material Safety Data Sheets
Use appropriate Personal Protection Equipment (PPE)
Know correct emergency procedures
Use safe habits
Source: Safety & Health Management Systems eTool
It is especially important to ensure employees know how to use and maintain PPEs. In order to establish PPEs, look for things that could potentially cause an injury such as
Objects that may fall
Exposed beams and pipes on the same level your employees will be working
Liquid chemicals that are exposed
Equipment that may produce loose particles
The employer has the responsibility to protect their employees from such hazards. Feasible engineering and work practice controls should be used to eliminate and reduce hazards.
Engineering controls used to protect employees involve a work environment that can be physically altered to prevent employee exposure to a potential hazard, therefore eliminating the hazard. Change process, isolation process, enclose process, as well as initial design specifications are all examples of engineering controls.
Administrative controls are "any procedure which significantly limits the daily exposure by control or manipulation of the work schedule or manner in which work is performed" (Safety & Health Management Systems eTool).
Work Practice controls are a "type of administrative control where the employer modifies the manner in which the employee performs assigned work. The modification may result in a reduction of exposure through such methods as changing work habits, improving sanitation and hygiene practices, or making other changes in the way the employee performs the job" (Safety & Health Management Systems eTool).
Engineering controls, administrative control, and work practice controls all must be surveyed and implemented where necessary. When changes occur, employees must be trained on the updates. By utilizing these controls along with SOPs, your company will be more successful in preventing and controling hazards.
Works Cited
Safety & Health Management Systems eTool. (n.d.). Retrieved April 18, 2014, from United States Department of Labor: https://www.google.com/url?sa=t&rct=j&q=&esrc=s&source=web&cd=3&cad=rja&uact=8&ved=0CEIQFjAC&url=https%3A%2F%2Fwww.osha.gov%2Fdte%2Fgrant_materials%2Ffy10%2Fsh-20993-10%2Fcreating_a_safety_program.ppt&ei=UlBVU-_zJOPMsQTM64GIDA&usg=AFQjCNEm08Mp79A3SkcEMD5O