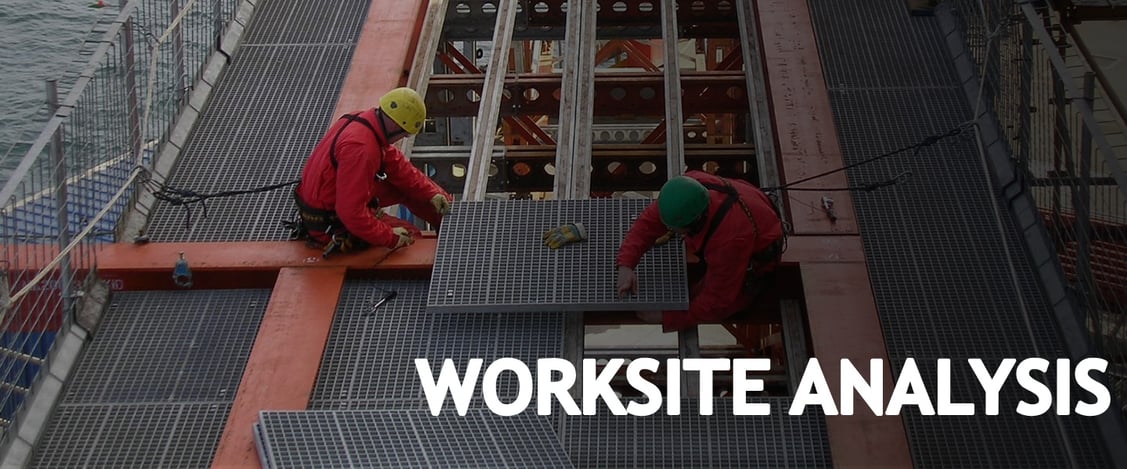 As discussed in the previous blog post, there are four elements of a workplace safety program. The first element deals with management, leadership, and employee involvement. The second element involves worksite analysis. The third element deals with hazard prevention and control, and the final element incorporates safety and health training and education. This blog post will dive deeper into the worksite analysis element.

Identifying and evaluating Potential Hazards
It is the company's responsibility to identify and evaluate potential hazards through the use of safety audits and inspections. By utilizing inspections of work areas and audits of safety programs, you can help prevent injuries and accidents by identifying hazards and problems before they become an issue. The responsibilities of personnel in safety programs should be clearly laid out.
Management should be responsible for designing the audit and inspection procedures. They should, also, schedule and conduct periodical, routine audits and inspections.
Supervisors are responsible for the day to day analysis. Daily safety inspections should be conducted in order to find any unsafe working conditions and correct them as soon as possible (Safety & Health Management Systems eTool).
Types of Inspection
Inspections should be made routine. The degrees of frequency are listed below.
Supervisor and Management Daily Walk-Through
Undocumented inspections
Made at the beginning and end of shifts
Make sure facility and equipment are in safe working conditions for employees
Issues must be corrected before the employees work in any unsafe areas
Examples:
• All construction Equipment


•

Hand tools


•

Scaffolding

Weekly Supervisor Inspection
Documented
Ensure current hazard controls are effective
Make sure employees are practicing safe working conditions
Make sure equipment is in safe condition
Monthly Safety Committee Inspections
Monthly tour of facility by safety committee with the safety manager
Familiarize committee with all areas of the operation
Record problem areas
Recommendations and deficiencies will be recorded and provided to management
Examples:
• Sprinkler Inspection
• Fire Extinguisher Inspections
• Safety Equipment Inventories
• Respirator Inspections
Source: Safety & Health Management Systems eTool

Conducting these simple audits and inspections will allow your employees to work safely and keep your facility effective and efficient.
Works Cited
Safety & Health Management Systems eTool. (n.d.). Retrieved April 18, 2014, from United States Department of Labor: https://www.google.com/url?sa=t&rct=j&q=&esrc=s&source=web&cd=3&cad=rja&uact=8&ved=0CEIQFjAC&url=https%3A%2F%2Fwww.osha.gov%2Fdte%2Fgrant_materials%2Ffy10%2Fsh-20993-10%2Fcreating_a_safety_program.ppt&ei=UlBVU-_zJOPMsQTM64GIDA&usg=AFQjCNEm08Mp79A3SkcEMD5O