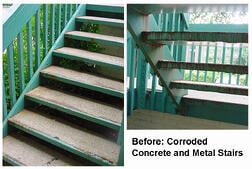 Outdoor stairs require tedious maintenance and can be very expensive. There are a variety of different traditional materials to choose from including wood, metal, and concrete to use in stair application.
Hotels, apartment complexes, and various commercial properties struggle with the nature of these materials. Wood rots and splits. Metal becomes slippery and corrodes. Concrete cracks and crumbles. Plus, metal and concrete are heavier materials making delivery and installation an expensive, long process.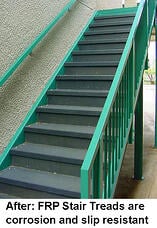 Because of these predicaments, Fibergrate Composite Structures created FRP stair tread solutions. Our covered stair treads and stair tread covers are corrosion resistant, slip resistant, require little maintenance, and are light weight. The corrosion resistance is extremely important in outdoor applications due to rain and other elements. It is very appealing to customers in coastal regions because of the heavy amount of corrosive salt in the air. It is, also, very significant in the North due to the salting of surfaces during the winter. The corrosion resistance maintains the aesthetic appeal because it will not rust or rot.
The slip resistant properties of fiberglass reinforced plastics make FRP stair treads and covers increasingly popular. Stairs can be dangerous and can easily lead to injuries and even lawsuits. The slip resistance of our stair treads and stair tread covers drastically reduce that threat.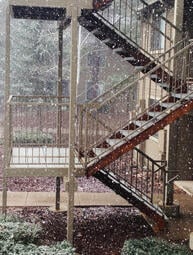 Because the stair treads are corrosion resistant, they do not require a lot of maintenance. While traditional materials need to be sand blasted and repainted, FRP materials can be cleaned using a pressure washer and do not need to be repainted.
FRP stair tread solutions are extremely light weight making installation easy. The light weight aspect makes the installation process significantly safer and less expensive due to no heavy lifting.
As mentioned earlier, in addition to our wide range of stair treads, we have stair tread covers. Stair tread covers can be place on existing stairs making them slip resistant. Savings between this option and traditional slip resistant tape can be seen in just one year and will continue to add up for years and years.
As you can see, FRP stair treads, covered stair treads, and stair tread covers are the more practical option for new stairs or when replacing/repairing stairs because of the overall price, increased safety, and low maintenance requirements.